WINDOW REPLACEMENT SERVICES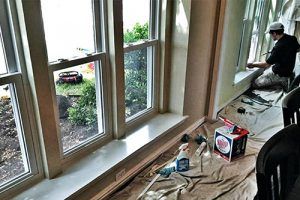 We definitely get our share of nasty storms here in Fort Bend County area. After any one of our horrible afternoon thunderstorms, we can walk down the street and find some windows that have been affected by these storms. If you have double paned windows, then you probably know what we're talking about. If you can see  condensation between the two panes of glass, you've been hit! If this is you, call Duran's Roofing & Remodeling today! Our team of professional window replacement contractors will get you taken care of and then you'll finally be able to see through the haze!
While it is important to choose a brand with a history of quality, performance, reliability, and customer satisfaction – the brand itself is not as important as the installation of the residential windows. If you are in love with a specific brand – we can get it. But the brands we carry have been chosen because of their exacting standards.
It seems every day you open the newspaper, there is more bad news as to increasing energy costs in the U.S., and it is forecasted to get much worse in the very near future. we have the solution to immediately save you a substantial amount of money on your energy bills.
We are ready to discuss your next construction project...
a representative will contact you within 24 hours
WHAT OUR CLIENTS ARE SAYING
I love working with Duran's. They are fast and do a terrific job. Jenny keeps the office running like clockwork. Even though I don't speak the same language as the gentleman who did the work this time it was easy to see that he knew his work and took pride in the job he did. Many thanks for being reliable in this unpredictable Texas weather.
Great company!!! Did a fantastic job installing a fence for me at my new house. Looks absolutely AMAZING!!! I will forever use Durans for any work that I need or will need in the future. They always do a great job and leave the site clean with no trash left behind. I couldnt even tell they were there!!! Dont hesitate to give them a call if you need anything done around your house. You wont be disappointed.
They have done so many things for us from roofing, window replacement, patio cover, and replaced front porch columns, amazing work. Neat, clean...we can't say enough good about this company and their employees. Hope to use them soon to replace our drive way.
I just wanted to thank Duran's Roofing and Home Services for the excellent job on repairing our spare bedroom from water damage. This is not the first job they have put a new roof and a remodel on our sunroom for us and every time the workmanship and service has been outstanding. Thank you to Jennie, Stephen and Rolando you make doing business very easy.
When I contacted Duran's to do some sheetrock repair and painting in my home, they were prompt in sending someone out to review my requirements. Their estimation of cost was very reasonable and Duran's quickly scheduled someone to do the work. The professionals arrived on time and finished the work in one day and I was very pleased with the results. Both the materials and work were of very high quality and the staff was very professional and friendly. I'd recommend Duran's to anyone looking for home improvements and repair.